Automatic Electroplating Line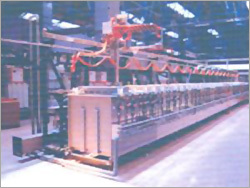 Automatic Electroplating Line
Product Description
Across the industry, we are known to be one of the leading manufacturers and exporters of Automatic Electroplating Line. We provide advanced series of plating equipments that are useful for carrying out the deposition of different metals. These equipments are considered as the ideal solution applicable to provide excellent chrome plating to the components of two wheelers and other automotive. Our clients can have the Automatic Electroplating Line in different specification and capacities.
Features:
Eliminate corrosion chances
Energy efficient

Long operational life
Further Details:

KAMTRESS specializes in supplying the Advanced Technology Automatic Electroplating Line for carrying out the deposition of Metals on Metals and Metals on Plastics.
KAMTRESS provides full solution for the Chrome Plating of various components for the Two Wheeler Industry, which calls for stringent service conditions for corrosion resistance.